Standard Operation Guide :: Frozen Beverage :: Best Practices

For most operators, a Frozen Beverage machine may seem like an overwhelming and daunting piece of equipment. The reality, however, is that with a few good habits and implementing proper processes, operating your Spaceman machine can be easy, stress free, and reward with you with a highly profitable frozen treat to offer your customers for years to come.

Overview

At the end of the day, it always comes down to proper maintenance. Much like your car, routine and proper cleaning and maintenance is a requirement for a successful experience. A vast majority of the technical service and customer support calls we receive can be directly tied back to improper cleaning or maintenance of the equipment. In this article, we will discuss all the best practices you should implement in your establishment to have the most success with your Spaceman frozen beverage freezer.


Notice: This is not a complete list of how to operate your Spaceman Machine. This is only a supplemental resource to use in conjunction with the training guides, machine manual, and quick reference guides provided with your machine at the time of purchase. You should ALWAYS refer to the machine manual for proper operation of your machine.


Warning: Operating this machine without proper training may cause severe damage or personal injury. BEFORE operating your machine, it is important to review all provided information about proper use. Failure to do so may result in severe injury, damage to the machine, and the voiding of your manufacturers product warranty.

During Installation and operation, always ensure that your machine has proper clearance to allow for adequate airflow around the machine. Spaceman recommends at least 6" of clearance on all sides of the machine. Inadequate airflow will result in poor machine performance and potentially bad product.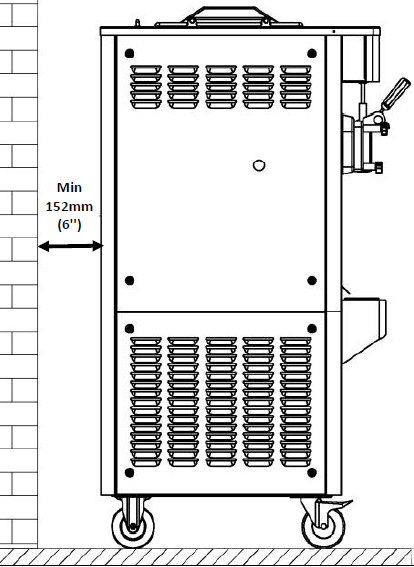 Special care should be taken to minimize the amount of dust or particulates that could be in and around the machine. Fine dust particles, grease, and flour will clog up the condensing unit on your machine much faster and reduce its lifespan and performance. If your machine must be in an environment that is dirty, we recommend performing internal maintenance more often.



Daily Tasks

You should regularly inspect your air-tubes, drip trays, and

dispensing spout. Spaceman recommends removing, cleaning, and sanitizing air-tubes and drip trays multiple times throughout the day.




It is important that your hoppers remain free of foam and solids. Most Spaceman machines are equipped with a hopper agitator to prevent liquid product from settling. Throughout the day, you should regularly check and scoop out any foam or solids that have developed with a clean, sanitized spoon.




To keep a clean and safe environment, Spaceman recommends wiping down the exterior of the machine with a clean, sanitized rag or towel. This should be performed only with a clean towel and water mixed with sanitizer to prevent any contamination.



Cleaning

Cleaning your Spaceman machine consists of draining out all the product, rinsing, washing, and re-assembling all the food-contact parts with proper lubrication. Along with your operator manual, Spaceman provides a Cleaning Guide and adhesive-backed protective covering with your machine. This Cleaning Guide can be affixed to the side of your machine for quick reference to ensure all the disassembly and assembly steps are followed correctly. For more information on the cleaning guide for your machine, please see the Spaceman Documentation page.
Spaceman recommends cleaning your machine as often as possible. The more often you clean your machine, the fresher your product will remain, and the longer your machine and its parts will last. You should always check with your local health department to determine the maximum time allowed between cleanings.




Always inspect your wearable parts for damage or excessive wear, and always replace with genuine Spaceman parts and food-grade lubrication. It is a good idea to always keep spare wearable parts, lubrication, and sanitizer on-hand. Having these spare parts on hand is cheap insurance to ensuring your machine will always be running at peak performance. All Spaceman OEM parts are available at

PartsTown

. For more information on wearable parts, please see the

Tune Up Kits Article

.



Regular Maintenance

Quarterly



Replace

Tune Up Kits

– Spaceman recommends replacing all wearable parts once per quarter.




Replace

Scraper Blades




Inspect Inside of Machine for cleanliness



Annually



Schedule

annual maintenance to clean condensing units, check belt tension, and overall machine performance.



Repair



While most parts can be replaced by the operator, some maintenance or repair tasks require a professional service technician. Spaceman's Help Desk provides detailed instructions on repairing and replacing most major components, and Spaceman Technical Support is always available to connect you with an Authorized Service Agent to keep your machine running at peak performance.



Operational Tips and Tricks for Success

DO

Pre-Chill Product

: When filling/refilling your machine, product should NEVER be frozen or contain any chunks or particles. For optimal performance, liquid product should be added pre-chilled. This will help your machine conserve energy, produce product faster, and prevent other potential machine issues.




DO

Pre-Mix Product

: Spaceman recommends having at least one batch of each flavor pre-mixed in your walk-in cooler for easy replenishment during peak hours. This will help avoid running the machine in low-mix status for extended periods of time, which is not recommended and may cause freeze-up issues.




DO Keep equal mix levels in Hoppers

: Spaceman recommends keeping the hoppers full to approximately the same level. Since the hoppers share a refrigeration system, this will help prevent one hopper from over-cooling




DO Remove lubrication during cleaning

: During disassembly, Spaceman recommends wiping the lubrication off the parts with a paper towel prior to washing.




DO Use Spaceman OEM Lubrication

: Spaceman highly recommends using our specific Spaceman brand High-Temperature lubrication. It can be purchased directly from

PartsTown

for convenient ordering.




DO Keep flavors on same side

: If you do not change flavors often, place the same flavor into the same side each time after cleaning to avoid having to change/adjust viscosity settings.




DO Check Brix Levels

: Always ensure that the product you are using is being mixed according to the manufacturer specifications. You should always use a Brix Refractometer to measure the Brix level of your mixed product and ensure it is within a proper range. This will help avoid product consistency issues and other machine issues.




DO NOT use

Standby with low mix

: Do not place the machine into standby-mode with the low-mix light illuminated. The hopper(s) should always be at least halfway full for optimal performance and to prevent hopper freeze-ups.




DO NOT Operate in

Low-Mix

: Do not operate the machine with the low-mix light illuminated. The hopper(s) should always be at least halfway full for optimal performance.




DO NOT use

Hot Water

: Do not place hot water into the machine when cleaning and/or sanitizing.




Try

Not to use Dishwasher

: To extend the life of your parts, Spaceman does not recommend you place parts into the dishwasher for cleaning. Commercial dishwashers may damage your parts, especially O-Rings and Gaskets, and will certainly reduce the lifespan of the components.




Set and forget viscosity

: Once your machine has been put into operation and the viscosity has been set correctly, do not adjust viscosity any further, this will only need to be done if changing products/flavors. If your product consistency suddenly changes, other troubleshooting should be performed. Spaceman always recommends thoroughly cleaning and reassembling the machine as the first troubleshooting step for any issue.