Standard Operations :: Soft Serve :: SM-6210 Viscosity
Introduction
Most Spaceman Soft Serve machines use a digital control system to measure and freeze the product to an appropriate viscosity. Prior to 2020, one Spaceman soft serve model, the SM-6210, used analog controls rather than digital controls to operate the machine. While the machine still operated in the same manner, setting the viscosity on a manual control board is different than the digital version. This article outlines how to change the viscosity and the various amp draws for each setting. For more information on how soft serve machines work, please see: Soft Serve Introduction


Note: This article does NOT apply to the SM-6210-C models with an overhead digital controller. For newer 6210's with digital controls, the viscosity setting will be performed digitally using the control board settings. Please refer to the Standard Soft Serve Operator Manual for more information. Note that the viscosity for a 6210-C must be set above the motor amp draw with the compressor running.
Adjusting Viscosity

Important: Make only small adjustments to the viscosity setting; allow at least 10 to 15 minutes between adjustments to evaluate product firmness. The viscosity setting should not need continuous adjustment. Please see the
Soft Serve Best Practices
article if your product is inconsistent. A setting of #3 is the factory default setting.
Remove

the l

eft

s

ide

p

anel using

a

6mm

or 8mm

Allen

Key

Remove

the electrical

b

ox

c

over using

a

7mm

w

rench

, socket, or

Philips

head screw driver as required.

Viscosity is adjusted on the Electronic Control Board

. Locate the DIP Switch set with 6 DIP switches.

Move the switch UP for the desired viscosity level. Move all other switches DOWN.

Refer to the table below for equivalent amp draw.

The hardest viscosity is switch 1. The softest viscosity is switch 6.

Note: Only ONE dip switch should be placed in the up position at a time. Placing multiple switches up at the same time may cause odd behavior and freezing issues.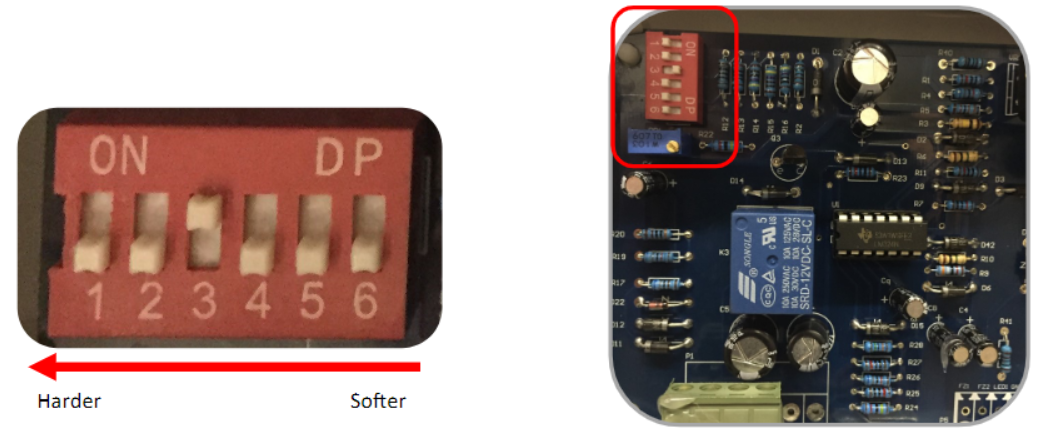 Viscosity Settings
The below chart shows the equivalent viscosity amperage for each dip switch setting.